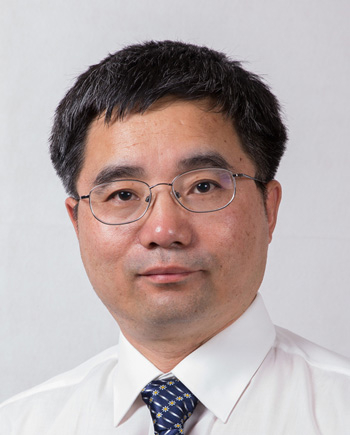 Office Location: SERC 2008
Email:
twu13

[at]

central [dot] uh [dot] edu
Dr. Wu completed his PhD degree at Chinese Academy of Sciences, and he then did his postdoctoral training at Pasteur Institute (Paris, France) and Max-Planck-Institute of Bioinorganic Chemistry in Germany. Dr. Wu was recruited to UT Southwestern Medical Center in 2003 first as a postdoctoral fellow, and then was promoted to assistant instructor, instructor and research assistant professor. He joined BME of UH in the fall of 2013 as an assistant professor.
Awards and Honors:
2007 Pilot Research Award (Alliance for Lupus Research)
2006 Novartis Travel Award (Novartis)
2001 Scholarship Max‐Planck Society
1999 National Marine 863 Initiatives Award Chinese Ministry of Science & Technology
1998 Di‐Ao Award (Chinese Academy of Sciences)
Research Interests:
During the past years, our research has primarily focused on biomarker discovery and therapeutic intervention of autoimmune diseases exemplified by lupus. This complex chronic disease is manifested by (1) hyperproliferation and hyperactivation of immune cells, such as B cells, T cells and myeloid cells; (2) production of high titers of autoantibodies and (3) damage to end organs, i.e. kidney, central nervous system (CNS) and/or heart attacked by inflammatory immune cells and autoantibodies. To find a cure for this devastating disease, the first step is to characterize the molecular basis of the pathogenesis of this disease. Emerging proteomic technologies have allowed us to identify potential novel markers and causative signaling pathways of this disease. It is promising that further development and application of these novel technologies might lead to the identification of early biomarkers, non-invasive biomarkers, surrogate pathology markers, and most importantly, therapeutic targets for this immunological disease. Along this line, our future research aims at the development and fabrication of novel detection systems with high sensitivity, high specificity, high reproducibility and high throughput capacity for disease surveillance. This will include chemical synthesis of nanomaterial-based probes for biomarker detection, and the development of biosensor technology. Finally, end-organ damage causes high mortality, therefore, tissue repair will be another research interest and ultimate aim of our future studies of immunological diseases.
Selected Publications:
Wu T*, Du Y, Han J, Singh S, Xie C, Guo Y, Zhou XJ, Ahn C, Saxena R, and Mohan C*. Urinary Angiostatin - a novel marker of renal pathology chronicity in lupus nephritis. 2012. Molecular and cellular Proteomics2013 Jan 23. [Epub ahead of print] PMID: 23345539. *Corresponding author.
Becker AM, Dao KH, Han BK, Kornu R, Lakhanpal S, Mobley AB, Li QZ, Lian Y, Wu T, Reimold AM, Olsen NJ, Karp DR, Chowdhury FZ, Farrar JD, Satterthwaite AB, Mohan C, Lipsky PE, Wakeland EK, Davis LS.SLE Peripheral Blood B Cell, T Cell and Myeloid Cell Transcriptomes Display Unique Profiles and Each Subset Contributes to the Interferon Signature.PLoS One. 2013 Jun 24;8(6):e67003.
Hutcheson J, Ye Y, Han J, Saxena R, Li Q, Mohan C*, and WuT*. Comprehensive adipokine screening in SLE validates resistin as a promising marker of renal disease. 2013. Rheumatology (Oxford) (In Revision). *Corresponding author.
Min S, Yan M, Du Y, Wu T, Khobahy E, Kwon S, Taneja S, Bashmakov A, Mohan C. Intra-articular Nf-kB Blockade Ameliorates Collagen-induced Arthritis in Mice by Eliciting Regulatory T Cells and Macrophages Clinical & Experimental Immunology. Pub ahead of print: Jan 2013, DOI: 10.1111/cei.12054.
Vanarsa K, Ye Y, Han J, Xie C, Mohan C*, Wu T*. Inflammation associated anemia andferritin as disease markers in systemic lupus erythematosus. Arthritis Res Ther. 2012 Aug 7;14(4):R182. [Epub ahead of print] PMID:22871034. * Corresponding author.
Wu T, Mohan C. Lupus nephritis - alarmins may sound the alarm? Arthritis Res Ther. 2012 Dec 31;14(6):129.
Min SY, Fu Y, Hutcheson J, Wu T, Khobahy E, Zhu J, Vanarsa K, Du Y, Park MJ, Park HS, Saxena R, Kim HY, Mohan C.Peritoneal catheter implantation elicits IL-10-producing immune-suppressor macrophages through a MyD88-dependent pathway. ClinImmunol. 2012 Apr;143(1):59-72
Singh S*, Wu T*, Xie C, Vanarsa K, Han J, Mahajan T, Oei HB, Ahn C, Zhou XJ, Putterman C, Saxena R, Mohan C. Urine VCAM-1 as a marker of renal pathology activity index in lupus nephritis. Arthritis Res Ther. 2012 Jul 13;14(4):R164. [Epub ahead of print] PMID:22788914 *Joint first authors.
Yang Y, Ye Y, Liang L, Wu T, Zhan Z, Yang X, XuH.Systemic-lupus-erythematosus-related acute pancreatitis: a cohort from South china. ClinDevImmunol. 2012;2012:568564. Epub 2012 Jun 19. PMID:22761631.
Wu T, Xie C, Han J, Ye Y, Weiel J, Li Q, Blanco I, Ahn C, Olsen N, Putterman C, SaxenaR.Mohan C. (2012) Metabolic Disturbances Associated with Systemic Lupus Erythematosus. PLoS ONE 7(6): e37210. PMCID: PMC3378560.
Kiani A*, Wu T*, Fang H, Zhou XJ, Ahn C, Magder LS, Mohan C, Petri M. (2012) Urinary Vascular Cell Adhesion Molecule (VCAM-1) but not Neutrophil Gelatinase-Associated Lipocalin (NGAL) is Associated with Lupus Nephritis. J Rheumatol. 2012 Jun;39(6):1231-7. Epub 2012 Apr 15. PMID: 22505707.* Joint first authors.
Ma F, Cang Y, Zhao B, Liu Y, Wang C, Liu B, Wu T, Peng A. (2012) Contrast-Enhanced Ultrasound with SonoVue could accurately assess the renal microvascular perfusion in diabetic kidney damage. Nephrol Dial Transplant. 2012 Jul;27(7):2891-8. Epub 2012 Apr 24. PMID:22532616.
Peng, A*, Wu, T*, Zeng, C, Rakheja, D, Zhu, J, Ye, T., Hutcheson, J, Vaziri, ND, Liu, Z, Mohan, C, Zhou, XJ. (2011) Adverse Effects of Simulated Hyper- and Hypo-Phosphatemia on Endothelial Cell Function and Viability. PLoS One. 2011; 6(8): e23268. * Joint first authors. PMCID: PMC3153490.
Lu H*, Zhen J*, Wu T*, Peng A, Ye T, Wang T, Yu X, Vaziri ND, Mohan C, Zhou XJ. (2010) Superoxide dismutase mimetic drug tempol aggravates anti-GBM antibody induced glomerulonephritis in mice. Am J Physiol Renal Physiol. 299 (2):445-452. *Joint first authors.
Wu, T., Sajitharan, D., Mohan, C. Biomarkers of rheumatoid arthritis: recent progress. Expert Opinion on Medical Diagnostics. 2010. 4(4): 293-305.
Wu T, Fu Y, Brekken D, Yan M, Zhou XJ, Vanarsa K, Deljavan N, Ahn C, Putterman C, Mohan C. (2010) Urine proteome scans uncover total urinary protease, Prostaglandin D synthase, Serum amyloid P, and Superoxide dismutase as potential markers of lupus nephritis. J Immunol. 2010, 184(4):2183-93. PMCID: PMC2927858.
Santiago-Raber ML, Dunand-Sauthier I, Wu T, Li QZ, Uematsu S, Akira S, Reith W, Mohan C, Kotzin BL, Izui S. (2009) Critical role of TLR7 in the acceleration of systemic lupus erythematosus in TLR9-deficient mice. J Autoimmun. 2009 Nov 25. [Epub ahead of print]
Wu, T., Mohan, C. (2009) The AKT axis as a therapeutic target in autoimmune diseases..Endocrine, Metabolic & Immune Disorders - Drug Targets, 9(2):145-50.
Wu, T., Mohan, C. Proteomics as a tool for biomarker discovery in autoimmune diseases. 2009.Autoimmun Rev. 8(7):595-8. PMID: 19393208.
Hutcheson J, Scatizzi JC, Siddiqui AM, Haines GK 3rd, Wu T, Li QZ, Davis LS, Mohan C, Perlman H. (2008) Combined Deficiency of Proapoptotic Regulators Bim and Fas Results in the Early Onset of Systemic Autoimmunity. 2008. Immunity 28, 206–217. PMID: 18275831.
Wu T, Xie C, Wang HW, Zhou XJ, Schwartz N, Calixto S, Mackay M, Aranow C, Putterman C, Mohan C. (2007). Elevated urinary VCAM-1, P-selectin, sTNFR-1 and CXCL16 in multiple lupus strains and human lupus nephritis. The Journal of Immunology, 179(10):7166-75. PMID: 17982109.
Wu T, Qin X, Kurepa Z, Kumar KR, Liu K, Kanta H, Zhou XJ, Satterthwaite AB, Davis LS, Mohan C. (2007). Shared signaling networks active in B cells isolated from genetically distinct mouse models of lupus. The Journal of Clinical Investigation, 117(8): 2186–2196. PMCID: PMC1913486.
Xie C, Patel R, Wu T*, Zhu J, Henry T, Bhaskarabhatla M, Samudrala R, Tus K, Gong Y, Zhou H, Wakeland EK, Zhou XJ, Mohan C. (2007). PI3K/AKT/mTORhypersignaling in autoimmune lymphoproliferative disease engendered by the epistatic interplay of Sle1b and FASlpr. IntImmunol. 19(4):509-22. (*Joint First Authorship).
Wu T, Xie C, Bhaskarabhatla M, Yan M, Leone A, Chen SS, Zhou XJ, Putterman C, Mohan C. (2007). Excreted urinary mediators in immune nephritis with potential pathogenic significance. Arthritis & Rheumatism, 56(3): 949-959. PMID: 17328072.
Wu T, Mohan C. 2007. Three pathogenic determinants in immune nephritis − anti-glomerular antibody specificity, innate triggers and host genetics. Frontiers in Biosciences, 12, 2207-2211. PMID: 17127457.
Wu T and Mohan C. 2007. Proteomics on the diagnostic horizon-Lessons from Rheumatology. Am. J. Med. Sci. 333 (1): 16-25. PMID: 17220690.
Mehrad B, Park SJ, Akangire G, Standiford TJ, Wu T, Zhu J, Mohan C. The lupussusceptibility locus, Sle3, mediates enhanced resistance to bacterial infections. J Immunol. 2006 Mar 1;176(5):3233-9. PMID:16493084.
Li QZ, Xie C, Wu T, Mackay M, Aranow C, Putterman C, Mohan C. Identification of autoantibody clusters that best predict lupus disease activity using glomerular proteome arrays. J Clin Invest. 2005 Dec;115(12):3428-39. PMCID: PMC1297234.
Vakonakis I, Sun J, Wu T, Holzenburg A, Golden SS, LiWang AC. NMR structure of the KaiC-interacting C-terminal domain of KaiA, a circadian clock protein: mplicationsfor KaiAKaiC interaction. ProcNatlAcadSci U S A. 2004 Feb 10;101(6):1479-84. PMID: 14749515.