Faculty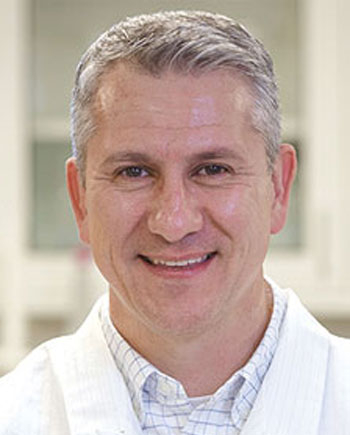 Mario Romero-Ortega

Director for Undergraduate Program
Cullen Endowed Professor

Email

miromer2

[at]

central.uh.edu
Dr. Romero-Ortega's expertise is in Cellular, Molecular, and Developmental Neuroscience, Nerve Injury, and Regeneration, Bioengineering and Peripheral Nerve Interfacing.
Education
1997-2002 Postdoctoral Training, Nerve Regeneration and Developmental Neurobiology, University of Texas Southwestern Medical School, Dallas, TX
1997 Ph.D., Neuroscience, Tulane University, New Orleans, LA.
1991 B.S., Biology (Summa Cum Laude), Guadalajara University. Av Enrique Díaz de León Sur, Americana, Guadalajara, Jal., Mexico
Courses
Engineering the Human Body (BIOE 4397/6397)
Awards and Honors
2014 Excellence in Research Award, College of Engineering, UTA
2013 IMPACT Award, Health Category, TECH, Fort Worth
2013 Promising Life Science Company Award, Texas Life Science Venture Forum
2012 Tech Titans Technology Innovation Award, Metroplex Technology Business Council
2012 Young Faculty Award, College of Engineering, UTA
2012 Teaching Award for e-Course Material, College of Engineering, UTA
2008 STARS Award, University of Texas System Board of Regents
1999 Outstanding Scientific Achievement Award, Texas Neurofibromatosis Foundation
1997 Postdoctoral Fellowship Award, Daniel Heumann Spinal Cord Foundation
1994 Adamo-Haarsted Award, New Orleans Society for Neuroscience
Research Interests
Our lab takes a multidisciplinary and collaborative approach to study the molecular mechanisms involved in axon guidance and target recognition, and to develop implantable devices for electrically interfacing with the nervous system. Specific projects include spinal cord injury and peripheral nerve gap repair, regenerative peripheral neurointerfaces for the control and feel or robotic prosthetic limbs, and bioelectronics medical applications.
Selected Publications
Wang K, Frewin CL, Esrafilzadeh D, Wang C, Pancrazio JJ, Romero-Ortega M, Jalili J, Wallace G (2019). "High performance graphene fiber based neural recording microelectrodes" Adv. Materials (Adv. Mater. 1805867. (1-10 pages).

González-González MA, Kanneganti A, Joshi-Imre A, Hernandez-Reynoso AG, Bendale G, Patil L, Modi R, Ecker M, Khurram A, Cogan SF, Voit W, Romero-Ortega MI (2018). "Thin Film Multi-Electrode Softening Cuffs for Selective Neuromodulation" Scientific Reports 8 (1), 16390. PMID 30401906

Castelán F, López-García K, Moreno-Pérez S, Zempoalteca R, Corona-Quintanilla D, Romero-Ortega M, Jiménez-Estrada I, Martínez-Gómez M (2018). "Multiparity afects conduction properties of pelvic floor nerves in rabbits" Brain and Behavior Brain and behavior 8 (10), e01105. PMID 30240150

Alsmadi NZ, Bendale G, Kanneganti A, Shehabeddin T, Nguyen A, Hor E, Dash S, Johnston B, Granja-Vazquez R, Romero-Ortega MI (2018). "Glial-derived growth factor and pleiotrophin synergistically promote axonal regeneration in critical nerve injuries." Acta Biomaterialia. PMID 30059799

Black B, Atmaramani R, Kumaraju R, Plagens S, Romero-Ortega MI, Dussor G, Price T, Campbell Z, Pancrazio J (2018). "Adult Mouse Sensory Neurons on Microelectrode Arrays Exhibit Increased Spontaneous and Stimulus-Evoked Activity in the Presence of Interleukin-6." Journal of Neurophysiology. PMID 29947589

Shimizu EN, Seifert JL, Johnson K, Romero-Ortega MI (2018). "Prophylactic Riluzole Attenuates Oxidative Stress Damage in Spinal Cord Distraction." Journal of Neurotrauma. PMID 29295647

Freeman DK, O'Brien JM, Kumar P, Daniels B, Irion RA, Shraytah L, Ingersoll BK, Magyar AP, Czarnecki A, Wheeler J, Coppeta JR, Abban MP, Gatzke R, Fried SI, Lee SW, Duwel AE, Bernstein JJ, Widge AS, Hernandez-Reynoso A, Kanneganti A, Romero-Ortega MI, Cogan SF (2017). "A Submillimeter, Inductively Powered Neural Stimulator" Front Neurosci. Nov 27;11:659. PMID 29230164

Anand S, Desai,V, Alsmadi N, Kanneganti A, Nguyen DH, Tran M, Patil L, Vasudevan S, Xu C, Hong Y, Cheng J, Keefer E, Romero-Ortega MI (2017). "Asymmetric Sensory-Motor Regeneration of Transected Peripheral Nerves Using Molecular Guidance Cues." Scientific Reports 7, 14323. PMID 29085079.

Bell J ES, Seifert JL., Shimizu EN, Sucato DJ, Romero-Ortega MI (2017). "Atraumatic Spine Distraction Induces Metabolic Distress in Spinal Motor Neurons." Journal of Neurotrauma 34(12): 2034-2044. PMID 28125935